Company
History
Staff
Board Members
Contact
Welcome to Learningtech.org!
Who We Are
Learningtech.org [The Miller Institute for Learning with Technology] is a 501(c)(3) California nonprofit, public benefit corporation. Our mission is to help people use technology more effectively for learning. We provide educational technology consulting services and hands-on learning opportunities. We emphasize student achievement and equitable access. We help design innovative solutions to facilitate teaching and learning. We work in a variety of contexts, including: traditional public schools, charter schools and charter management organizations, parochial schools, independent schools, other nonprofit groups providing services to youth and the community, as well as higher education and corporate training. We also offer technology workshops and summer camps for the general public.
Our philosophy is to offer whatever services are needed to help learners and educators succeed with technology. We help author technology plans, prepare grant proposals and funding applications (such as E-Rate), design networks, wire facilities, configure routers and servers, conduct competitive bidding and negotiations with suppliers on behalf of our clients, set up computers, replicate hard drives, assist teachers in designing lesson plans to integrate technology with content standards, deliver professional development seminars, roll out student information management systems, host school web sites and even reduce the amount of spam in the Superintendent's email. We help schools measure the impact of technology on student achievement, and we show up promptly to help troubleshoot when something goes wrong. We never forget that learning is the goal; technology is merely a means to that end.
---
News
We are proud to announce that Hack the Future [HtF], a highly regarded group of Silicon Valley volunteers, is becoming a program of Learningtech.org. HtF holds quarterly hackathons, where students pursue their own high-tech interests, mentored by luminaries (like Atari co-founder Al Alcorn, who invented Pong). We are serving as fiscal sponsor for HtF. Mark will participate as a mentor at their April 1st event, at South San Francisco Library.






Learningtech.org's E-Rate Team is busily preparing applications for Funding Year 2016. In 2015, we posted posted significant statistics, and almost all clients are now receiving funding! We helped 55 clients, submitted 113 applications, and represented 1430 schools serving 568,862 students. Funding requests totaled $24,674,528, of which 87 applications were for Category 1 ($14,787,719) and 26 applications were for Category 2 ($9,886,809). To learn more about E-Rate, the federal program for discounts on technology, please see Learningtech.org/erate, or give us a call at 650-598-0105. For a proposal for E-Rate Management Services, please send us email.
Starting with the class of 2018, all middle school students in Pacifica School District [PSD] will learn Computer Science, thanks to a generous grant from the Pacifica Education Foundation. In addition to coding, students will learn to create computer models and simulations to better understand scientific phenomena. Learningtech.org is proud to have been selected as the district's partner to help develop the curriculum and to provide professional development, co-teaching, and coaching as this exciting new program is rolled out over the next three years. PSD has had a long-standing relationship with Learningtech through several programs including in-class offerings at Grades 4, 7 and 8 called GearBots and AlgebraBots, bringing the excitement and authentic challenges of hands-on robotics to common core mathematics.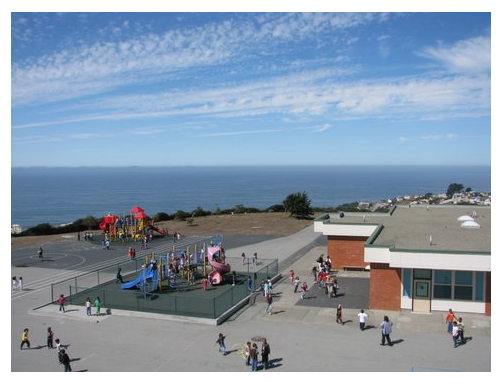 ---
Information For Potential Donors
Since we were founded in March 2000, The Miller Institute has established an impeccable reputation with our clients for integrity and technical excellence. We are deeply committed to making the world a better place, by ensuring equitable access to the power tools of knowledge and learning. Our founder and Executive Director, Mark L. Miller, Ph.D. (MIT '79), has devoted his entire multi-decade career to applying innovative technologies for learning. Please help us reach across the digital divide to make a difference in the lives of all learners. Our Donations page provides further information about helping us to help those students and schools most in need of our assistance.